AudioAnalyzer
Getting Started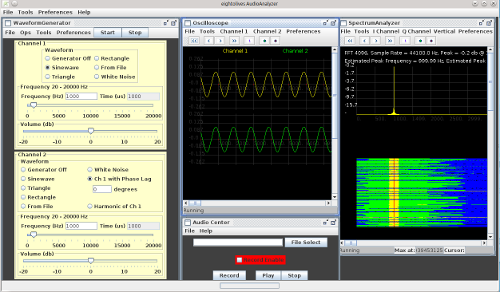 To run AudioAnalyzer you purchase either an AudioAnalyzer Kit, an on-line download subscription for one year or an AudioAnalyzer CD from our on-line store. A subscription lets you download, use the tool, and get updates for 1 year. After that period, you retain and can continue to use the last version you downloaded. The Kit contains the tool on CD, calibration cable, test cable, documentation and support files and includes a one year subscription for updates.
AudioAnalyzer is a program that requires Java to be installed on your computer. See the Install Page for detailed computer requirements on that and other optional third-party software you may wish to pre-install.
When you buy AudioAnalyzer, you will be emailed your initial login password. Subscribers can change their password at any time. At the AudioAnalyzer Login page enter your email address, which is your user name, and your password to start the software.
If you need help in getting started, you can either email our Help Desk at help@eightolives.com or call us at 1-978-682-6535 (8am-5pm ET).
Things you can do
* Observe audio from the PC's MIC or LINE IN inputs.

* Create 2 channels of sine, triangle, rectangle, AM, FM and white noise waveforms using your PC's sound system.

* Observe two audio waveforms using the Oscilloscope - Channel 1, Channel 2.

* Observe audio spectral power using FFTs.

* Check your PC's audio frequency response.

* Tune you guitar.

* Record and playback .wav files

* Input .wav files or data files in a .txt format.

* Calibrate audio levels.
Waveform Generator Features
* Generate 2 independent channels of sine, triangle, rectangle, AM, FM and white noise waveforms

*Force Channel 2 to be a fixed phase offset version of Channel 1.

* Force Channel 2 to be a phase-locked harmonic of Channel 1.

* Multiply or gate Channel 1 and Channel 2

* Control frequency and amplitude.

* Easily select "exact" FFT bin frequencies

* Select open string guitar tones

* Select DTMF tones
Spectrum Analyzer Features
* Observe 2 audio channels - I and Q

* Select Waveform Generator or system mixer as inputs

* Perform FFT of size 256, 512, 1024, 2048, 4096, 8192, 16384, 32768 or 65536

* Select FFT window function - none or Blackman

* Display normal or log amplitude or frequency

* Single pass or free run

* Integrate N passes of data

* Two cursors for absolute and delta measurements

* Interpolator estimates true sine wave frequency

* Optional phase plot

* Save FFT results to file

* Save waveform view as .png graphic
Oscilloscope Features
* Observe 2 channels of audio data from waveform generators, audio inputs or file.

* Select normal view or sum or difference

* Single pass or free run

* Selctable trigger conditions

* Normal display or XY plot

* Autorange or manual gain control

* Display normal or log

* Two cursors for absolute and delta measurements

* Save waveform view as .png graphic
Javasound Audio Features
* Selectable sample rates of 8000, 11025, 16000, 22050, 44100 Hz

*Selectable sample resoluton of 8 or 16 bits
Features
* It's a Java program that can run on whatever PC Java can run

* Works stand-alone, distibuted from your central server or from eightolives.com

* Users can calibrate the tool for their specific computer audio system.

* Help link to eightolives.com